Home | Work | Play | Photos | Contact | About
About the site
This is my personal web site. When I first set it up in 1995 all it had was a photo and an email address. The provider was Icon, the dial-up arm of Internet Solutions in South Africa. After moving back to Europe I registered Wittenburg.co.uk and the site evolved into what you see now.
About the name
Wittenburg is a German family name. Its bearers originate from a German town called Wittenburg (I managed a visit in 2021). You can read about the name's origin in English here, or here in the original German. You can read about the name's entymology on Wolfgang Wittenburg's web site Wittenburg.net.
About me
I am:
A father
A snowboarder
A scuba diver
A twin
Secretary of the parents association at my son's school 🙄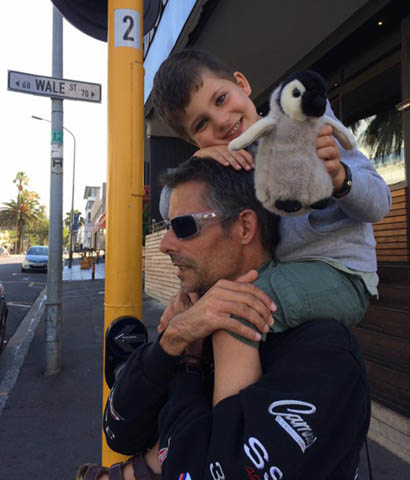 Cape Town, January 2017
The personal stuff
I've lived on three continents, and been to 37 countries. I'm fluent in three languages (slowly absorbing a fourth by sheer force of exposure), have swum with sharks, and jumped out of aeroplanes. There's titanium in my shoulder because snowboarding, amongst one or two other augmentations.
The professional stuff
I started programming computers in 1986 and have since worked for companies like EDS, Microsoft, and Nokia. These days I consult. Enterprise architecture, operational management, IT strategy, security, identity and access management... I also speak at events about making software, architecture, and being an IT consultant.
The army stuff
Experienced the end of the tail-end of the border war because they still had conscription back then (this was before the end of Apartheid). Started at 5SAI. The very next day was on a train to the Army Gymnasium at Heidelberg because I had IT experience. Also did my medical there (G1K1, for those that know). A week or so later they sent me to 5 Signal Regiment for basic training at Wallmansthal. I remember more than I'd like about that place 😳
Second phase was at Wonderboom (unoficially Poesplaas) in northen Pretoria, and finally 524 Troop (<-- this link describes my experience there well) in Phalaborwa for the remainder of my national service, except for two trips to South West Africa, because I speak German.
About the tech
I hand-code Wittenburg.co.uk using .Net, HTML, CSS and JavaScript. I'm not a web developer so some of the markup is sketchy. That's ok. The goal is to keep the site fast and usable -- which appears to be working out as I'm ranked #338 on the https://1mb.club/ with a home page size of only 76.6Kb 😃
Home | Work | Play | Photos | Contact | About
All content copyright © Michael Wittenburg 1995 to 2023. All rights reserved.
Merch (t-shirts designed by my twin)